Halfway There (Half-O-Ween) Remix Competition 2022 Winners!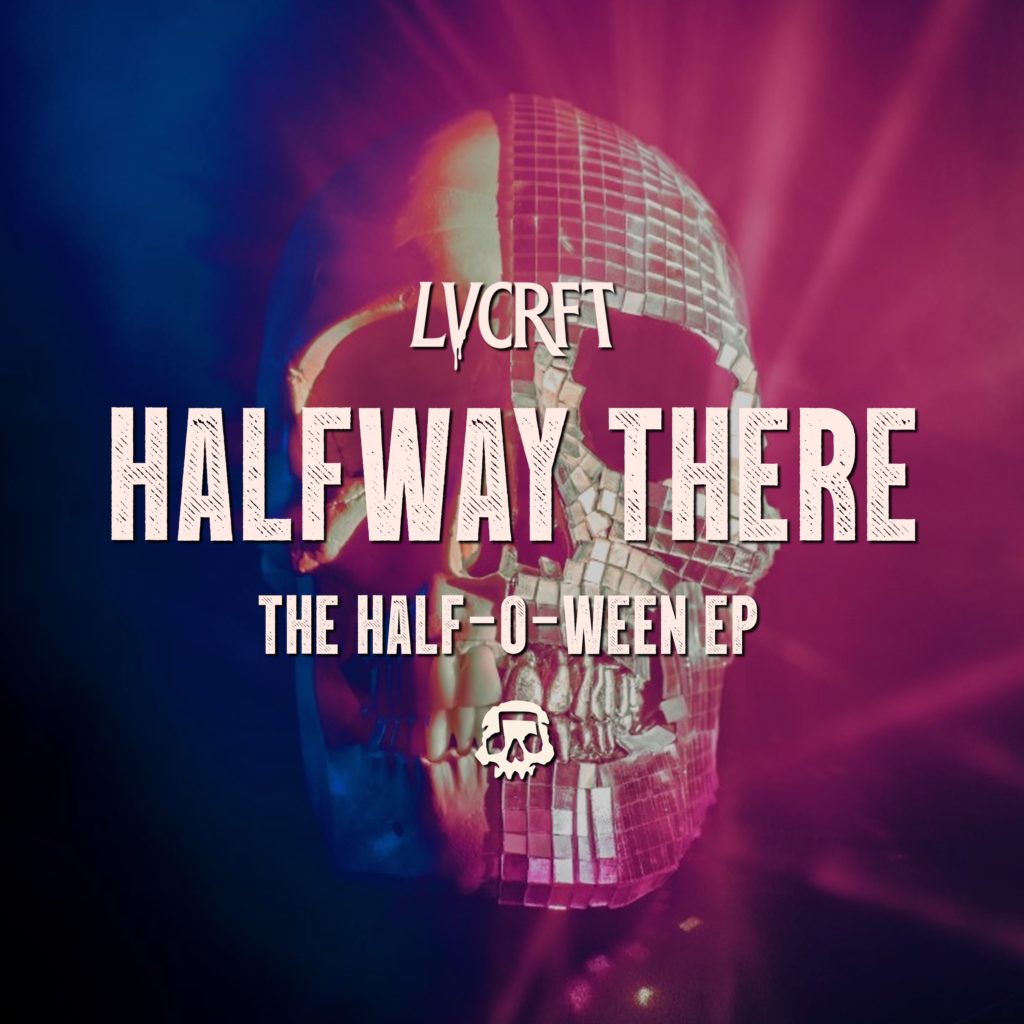 Congratulations to our winners EhsKei (grand prize), Joseph (runner up) and Amnesia Jones (2nd runner up)! They'll be receiving some insane software from Native Instruments and creepy cool prize packs from Midsummer Scream, HorrorBuzz & LVCRFT! In addition, their remixes will receive worldwide release on all streaming platforms on our Halfway There: The Half-O-Ween EP out tomorrow April 29, 2022.
Don't forget to claim your POAP! Links expire May 8th.
---
LVCRFT Half-O-Ween 2022 Remix Competition Winners Reveal Party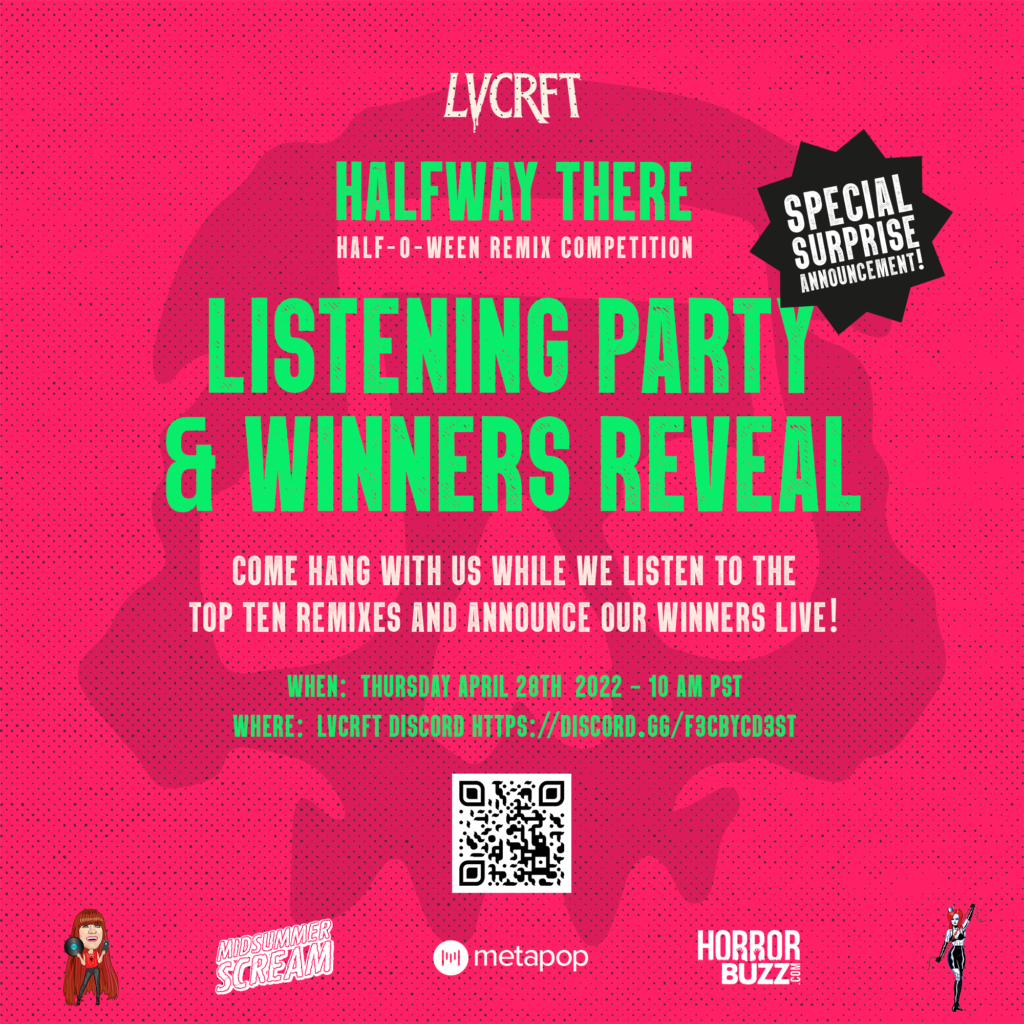 Halfway There (Half-O-Ween) Remix Competition
LISTENING PARTY & WINNERS REVEAL
Come hang with us while we listen to the top ten remixes and announce our winners live!
Special surprise announcement!
WHEN: Thursday April 28th, 2022 – 10 AM PST
WHERE: LVCRFT Discord
---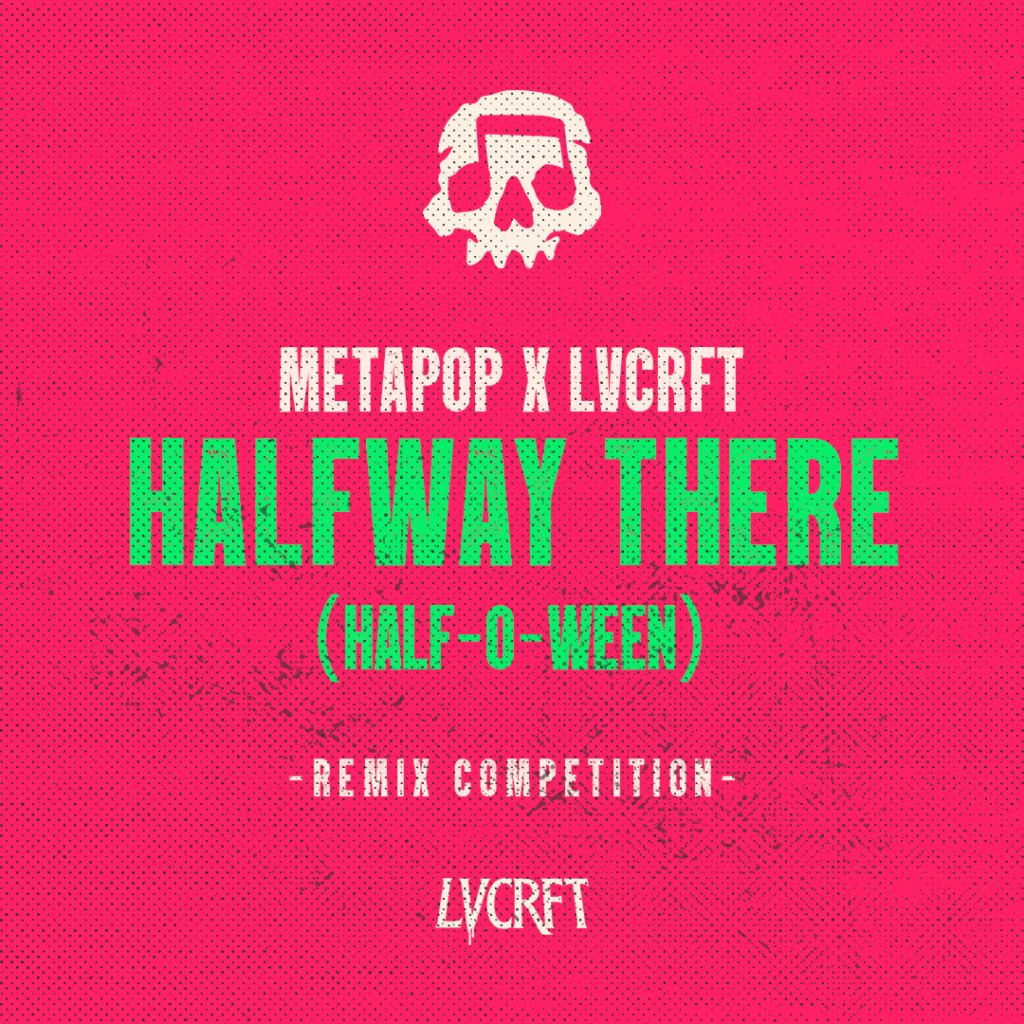 Remix our song "Halfway There (Half-O-Ween)" and win a sick prize package including LVCRFT, Midsummer Scream and HorrorBuzz swag and a Native Instruments Komplete 13 bundle!
Half-O-Ween is coming and last year we celebrated by dropping the dancefloor killer "Halfway There (Half-O-Ween)" and this year we're upping the ante and looking for the best remix to be included on our Half-O-Ween EP this April!
"Halfway There (Half-O-Ween)" features a gang of ghoulish vocals from Scary Ana Grande (Sarah Barrios), Evil McQueen (Bonnie McKee), DeepKutz (MNDR), DejaVudu (Romell) and even a tiny little sound-byte from Ghost M'lone (Babydaddy from Scissor Sisters.)
Judging the competition alongside LVCRFT will be legendary songwriter Evil McQueen AKA Bonnie McKee (Katy Perry, Taio Cruz), Lyndsey Parker (managing editor of Yahoo! Music and Sirius XM Radio host), David Markland (co-founder/Executive Director of Midsummer Scream) and Norman Gidney from HorrorBuzz.
The winning remix will be featured on the LVCRFT Half-O-Ween EP this April and prizes include Native Instruments Komplete 13 Bundle, LVCRFT apparel and more!
Come hang with the LVCRFT slasher seven in our invite only LVCRFT Discord server. We'll be talking shop, hanging and dropping easter eggs during the competition. Come say hi, we'll also be issuing a free POAP to all participants who join…
Now head on over to MetaPop to get your stems!
---
LVCRFT Remix Competition 2020
LVCRFT's October 2020 "Don't Leave Me In The Dark" featuring Morgan McMyKill Myers remix competition was a fierce affair. We had our work cut out for us with over 200 submissions to filter through our blood funnels and you can listen to the top ten on this nifty slaylist of winners. The EP is available on all the usual streaming sites and you can dance away at your leisure. Thanks again to Metapop, @RAC, HEDD Audio, Native Instruments, Mixtape Massacre, Midsummer Scream and HorrorBuzz for prizes and judging!
If you really want to go down the rabbit hole (all the way to the netherworld) you can hear every one of the remix submissions on the LVCRFT Metapop remix contest page. Feel free to join and make comments … if you dare.
---