---
It Must Be Halloween Out Now!
LVCRFT returns with "It Must Be Halloween" the soundtrack to Freeform's 31 Nights of Halloween.
---
LVCRFT Pumpkin Spice Everything
Now EVERYWHERE!
---
LVCRFT x Sabrina Spellman
"Straight To Hell" 10″ Vinyl Record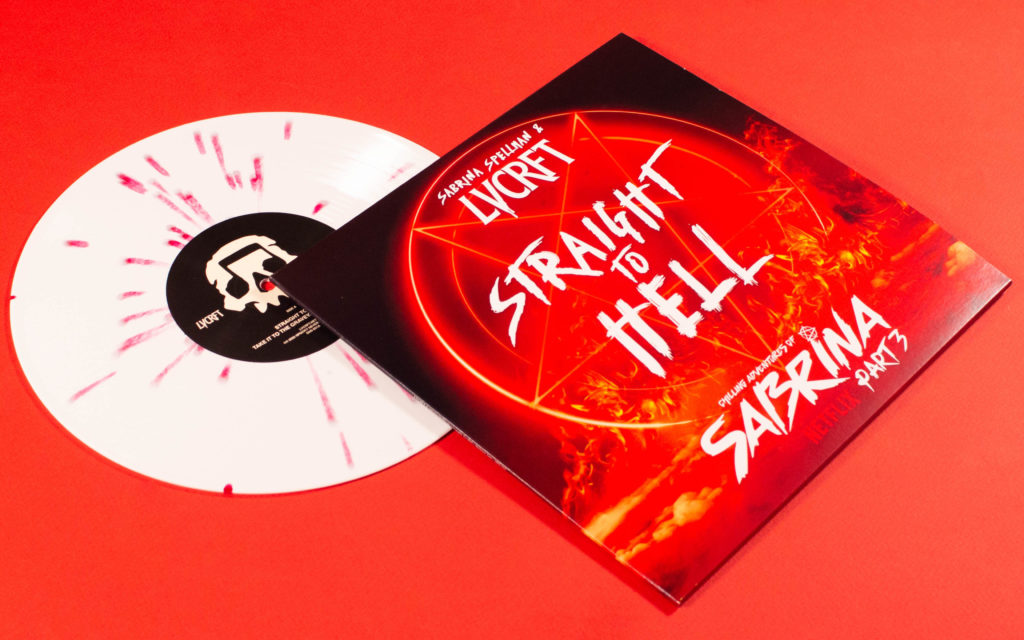 ---
LVCRFT NOW ON DISCORD!
---
LVCRFT – Every Night (Music Video)
LVCRFT "Every Night" music video filmed entirely inside the Spirit Halloween store in Porter Ranch CA, with as many costumes, animatronics and dancers as we could get our cold dead hands on.
---
LVCRFT Has a NEW LOOK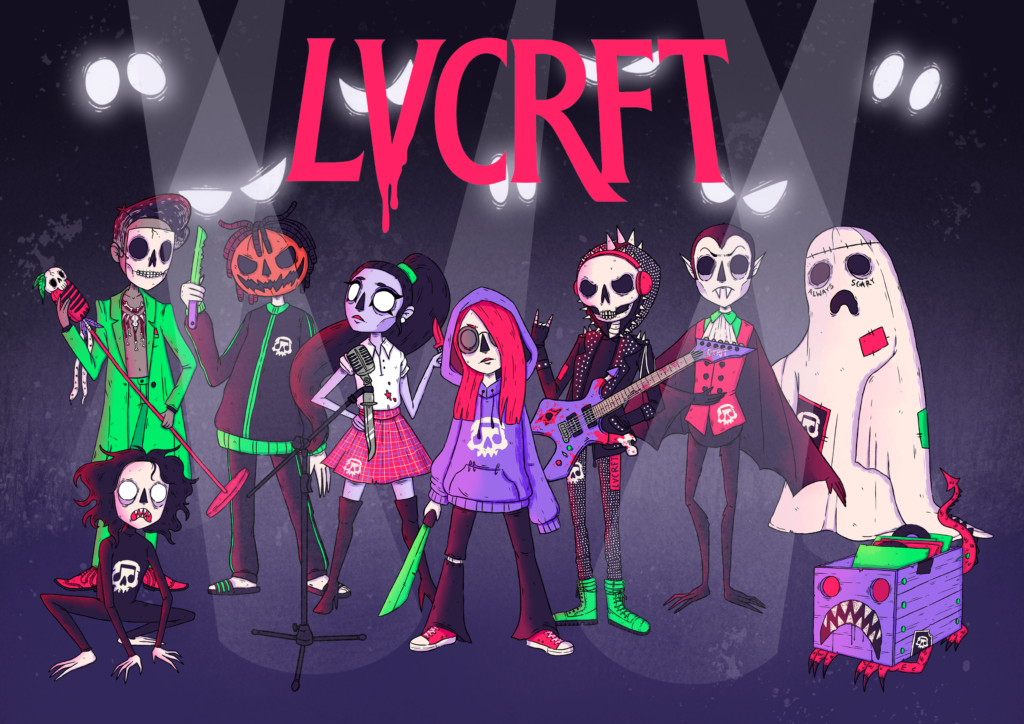 Hello Muh Spooky Freaks! It is 2022 and the LVCRFT Slasher 7 have been deep in our crypt witchcrafting our fourth album, a new blood offering for those of you who love bumps in the night. This year we're not only introducing our new CSO (Chief Spooky Officer) aka Skeleton Sam on Tiktok, but also we dug out our ouija board and found the most sinister of artists to bring our characters to life…or should we say, afterlife!? 👻
---
Halfway There (Half-O-Ween)
MUSIC VIDEO and EP
LVCRFT "Halfway There" – an anthem for the 2nd most important holiday of the year, HALF-O-WEEN! Today the freaky folks at FANGORIA are premiering not only our NEW HALFWAY THERE MUSIC VIDEO but also an EP OF KILLER DANCEFLOOR REMIXES for all of your SPOOKY SLAYLISTS.
Check out our insanely creepy "Halfway There (Half-O-Ween)" music video featuring the iconic drag star and winner of The Boulet Brothers' – Dragula: Resurrection, SAINT. SAINT brings her most devastating drag and glam-gore to life in this near-death celebration of Half-O-Ween. The video was produced and directed by horror creative and directorial genius Jamie Carriero and features creatures, crawlies and cake like you've never seen before; it's sure to satiate every spooky-freak looking for a fix, and hopefully it will get you at least halfway there!
Also out today: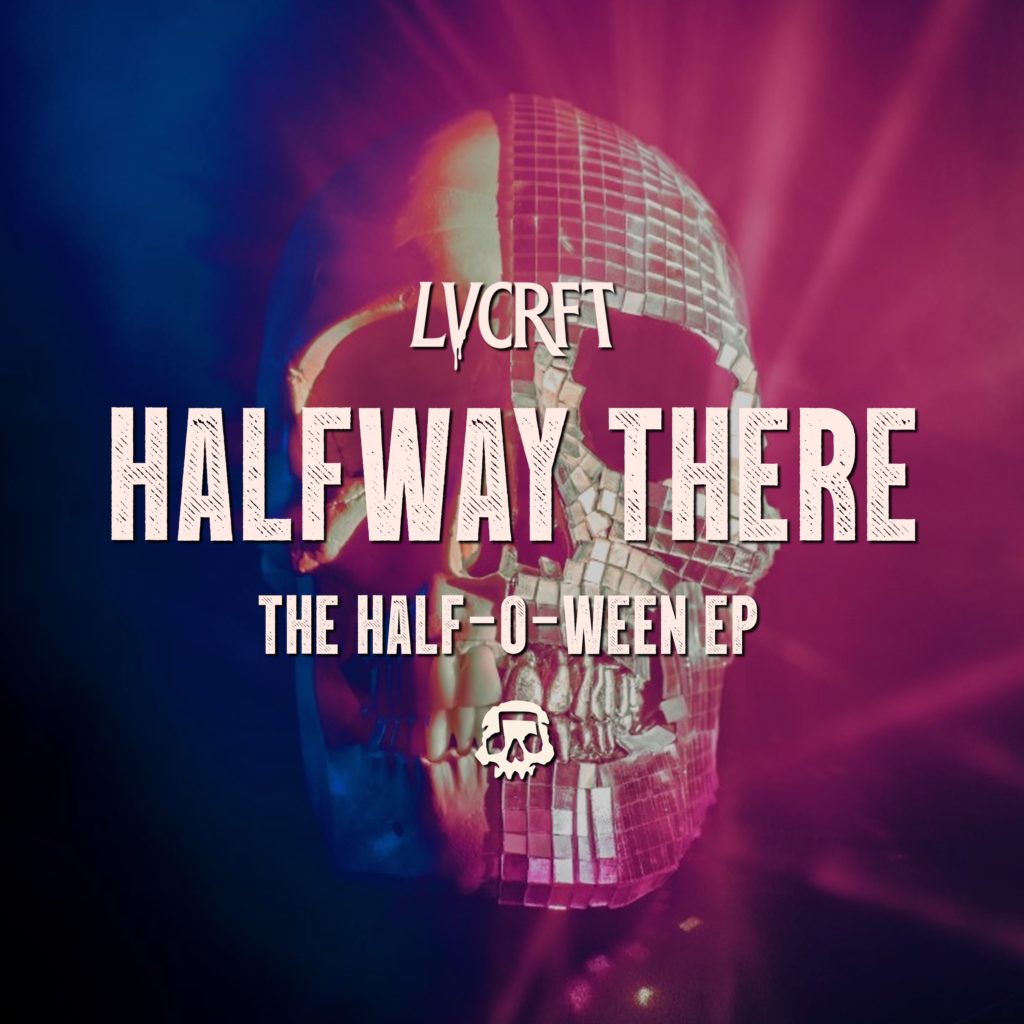 Halfway There: The Half-O-Ween EP featuring three winning remixes from our REMIX COMPETITION and two banging dancefloor mixes from RAC and Coven-19. We hope you enjoy these bone-shaking dance floor bangers that will SLAY 🔪🩸 any party.
---
Remix Contest Winners Announced!
The winners of our Halfway There (Half-O-Ween) remix contest have been announced! We'd like to thank Metapop for hosting, Native Instruments for their incredible prizes and our pernicious panel of judges Bonnie McKee (AKA Evil McQueen), Lyndsey Parker (AKA Grimsley Darker), David Markland (Midsummer Scream) and Norm Gidney (HorrorBuzz).
---
Happy Deadly Valentines Day!
You didn't think we'd leave you alone and heartbroken on a holiday filled with love, lust and blood did you? How could a bunch of spooky freaks like the LVCRFT Slasher 7 resist conjuring up a truly terrifying Valentine's Day hit dedicated to their favorite color and body part?!? "Deadly Valentine" is a song of love gone wrong, so wrong you end up in a pool of blood…
But the real question is, is true love worth dying for?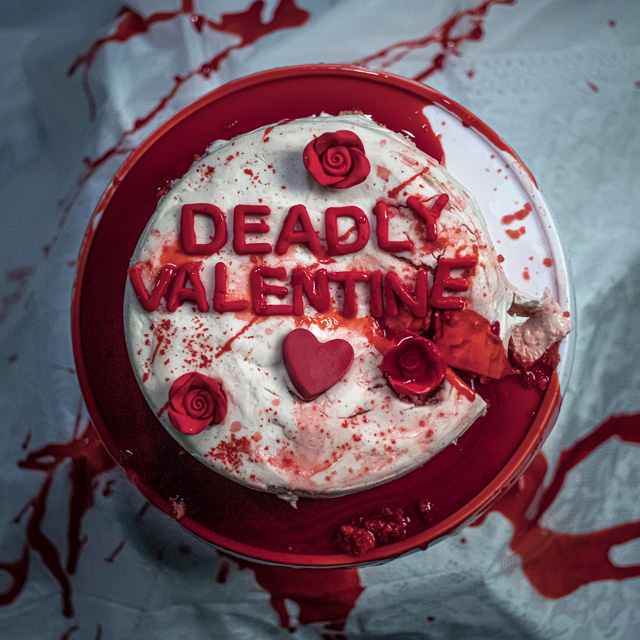 LVCRFT's own Scary Ana Grande, DejaVudu and Count Trackula delicately tell us the story of obsessive lethal love while sweetly serenading us with haunting vocals and maleficent melodies hot enough to warm any dead body. "Deadly Valentine" is so moving it's sure to leave you with a knife straight through the heart and a bloody tear rolling down your face.
Happy Deadly Valentine's Day everyone!
---
LVCRFT – Dia De Los Muertos DOS!
We're giving you one last treat before the SPOOKY SZN officially ends and TRKY SZN begins! 🦃 Today is Dia De Los Muertos, the Day of the Dead and we are back again with new music!
Dia De Los Muertos DOS is here! Five infectious spooky tunes will have you looking under your bed, terrified to open your closet and dancing till your cabezas fall off. 🤯
Check out our new lyric video for "Tuki Tuki Tuki" and watch me play myself!
---
LVCRFT – THE RETURN + New Paranoid Lyric Video
The storm clouds have gathered and there's a rumble…but the rumble isn't thunder, it isn't your "tummy", it's actually the distant-no-more sound of LVCRFT's tasty-as-candy third album THE RETURN dropping worldwide today!
It's ALiiiIIIIIIIIiiiiiIIIIIIiiiiiVE! 🧟‍♂️🧟‍♀️
LVCRFT has slaved in their demonic dungeon all year to bring you this masterpiece of spooky Halloween bops to be listened to year round…and forever!
---
LVCRFT – Gravedigga

"Gravedigga" takes its name from "horrorcore" purveyors Gravediggaz — a super group which included the Undertaker AKA Prince Paul, the Rzarector (Wu-Tang's RZA), the Grym Reaper (Poetic), and the Gatekeeper (Frukwan) — the latter is featured on this spooky funk-pop anthem rapping alongside the alter egos of electro provocateur MNDR and Bonnie McKee.
Get out your pompoms and let's cheer this one into the grave!
---
LVCRFT – Resurrection
Teenage Dream, Roar, Dynamite, California Gurls what do these songs have in common aside from multi BILLIONS of streams? They're all written by LVCRFT's own Bonnie McKee AKA Evil McQueen!
We're excited to bring you back to life with "Resurrection" featuring, you guessed it, Evil McQueen (Bonnie McKee). Give it a spin above!
---
LVCRFT – Spellbound
"Spellbound" is the latest in a long line of LVCRFT's Retro Spooky bops, blessed by the voracious vocals of clairvoyant songstress Madame Bizarre (Madilyn Bailey) it's bound to cast a spell over you… see what we did there? Don't forget to cast your spell—er vote—for Madilyn on America's Got Talent!
---
LVCRFT The Return is coming!
---
Your New Favorite Spooky Pop Music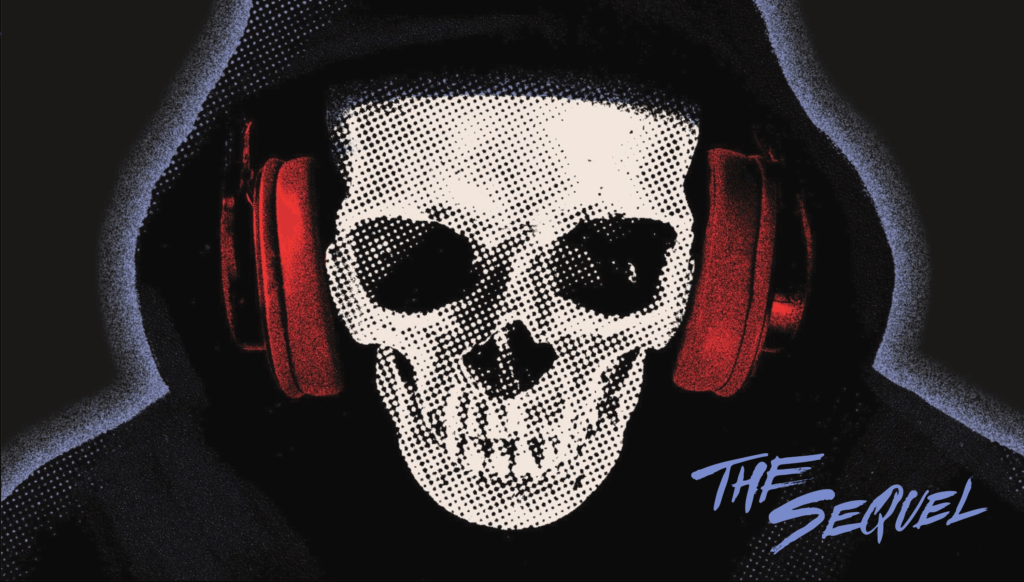 SPOOKY FREAKS: IT IS TIME!
LVCRFT – a band of horror-obsessed hitmakers responsible for writing & producing tracks for Rihanna, Madonna, Charli XCX and Beyonce among others – has united once more to create an album overflowing with songs that promise to keep you dancing, sweating, and begging for your life.
New album The Sequel expands on last year's blood offering (This Is Halloween Vol.1) with an expanded cast that even includes The Evil Dead's Bruce Campbell and the Cryptkeeper himself, John Kassir. Pop music ain't never sounded like this. Dive in and join us!
---
Spooky Scary Skeletons
---
Exercise The Demons Zombie Workout
---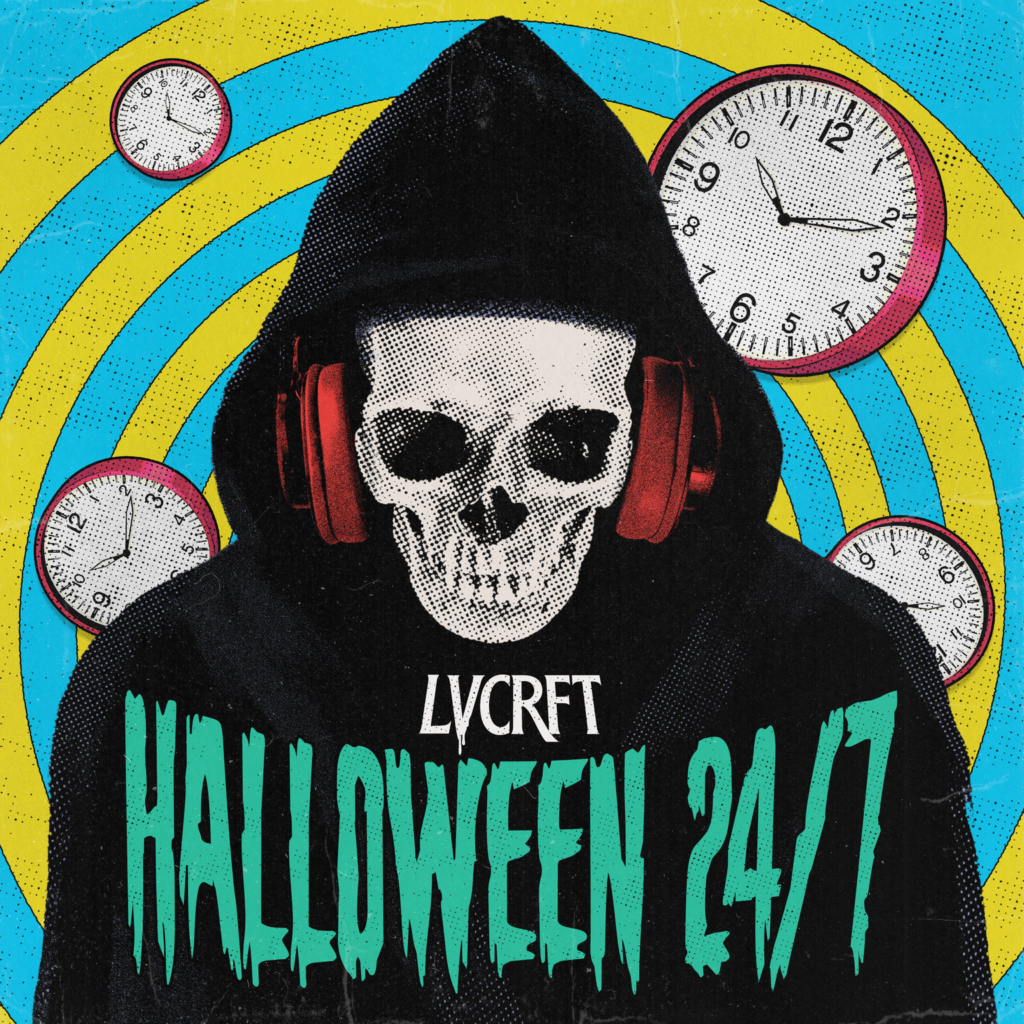 ---
Join the LVCRFT Letter
Join The Spooky Freaks by signing up to receive The LVCRFT Letter and we'll send you a pumpkin stencil to use for Halloween! 🎃 The letter will keep you up to date with year-round spooky music and killer stuff and we promise to never spam you or share your details.